Participate in a work-study program to save Tibetan culture.
Live in a community to discover your true self.
Tibetan Text Preservation in the Coastal Redwoods of Sonoma County, California.
"There are only two mistakes one can make along the road to truth; not going all the way and not starting." -Buddha
We are a community and a non-profit organization in the coastal redwoods of northern California dedicated to preserving Tibetan culture as well as studying Tibetan Buddhism. The environment here supports and encourages self-reflection, cooperation, and spiritual exploration. We offer meaningful work in a country environment along with Tibetan yoga, meditation, and other Buddhist studies. Although we are a Buddhist intentional community, you do not have to be a Buddhist to live and work with us.
The Yeshe De Text Preservation Project is currently seeking people who have a strong work ethic as well as a sincere interest in Buddhism and exploring work as a path to inner knowledge. Our weekly schedule is rigorous (6 days a week), but rewarding.See our work-study web site for details, photos, application and everything you need to know about living and working at Ratna Ling
Testimonials of Current Volunteers
"Ratna Ling and Yeshe De have provided me with an opportunity I never saw coming. Having found a home, a family, and a deep reservoir of knowledge and wisdom from an ancient culture of studying the mind, I cannot express the depths of which this place has transformed my mind and touched my heart." -Kel
"Many people take part in group activities and, through common experiences, learn something about themselves in unexpected ways. Yeshe De is a unique opportunity to delve ever deeper into personal growth." -Ray
Minimum commitment is six months. No religious affiliation required. Minimum age is 23 years old. Couples are welcome to apply.
Call us at 707-847-3777 ext. 115 or email: volunteer@ratnaling.org for more details and an application.
Job Type:  Work-Exchange, Retreat Center
Location: Cazadero, California, USA
Salary:  Room, board, $150 per month living allowance, free classes
Season: Year round
Facebook: Ratna Ling on Facebook
Learn More At: http://ratnalingworkstudy.com
ACE is seeking AmeriCorps Interns dedicated to working 12-25 weeks on outdoor conservation projects.
This opportunity is intended for enthusiastic young adults with a background in an environmental field and/or a dedicated interest in pursuing a career in conservation and environmental stewardship. These internships provide the opportunity to learn and train among professional mentors and participate in the execution of significant conservation and land management objectives. AmeriCorps Interns will also gain leadership skills while helping to supervise, train, and generally support ACE conservation volunteers who are rotated through long term projects.
Qualifications: Successful ACE Corps Members all share an interest and passion in environmental conservation and volunteerism. Applicants should take joy in tackling challenging situations with a positive mindset and be willing to undertake arduous physical work in all types of weather and terrain while participating as a team member, dedicated to ACE's mission.
ACE's AmeriCorps Professional Development Program is meant as a stepping stone to environmental careers and/or as a gateway to potential leadership positions within ACE, not only as an interesting and rewarding way to spend up to 25 weeks working in beautiful locations. Applicants should look at this internship as a career opportunity rather than a "job". Drug users, including recreational smokers of marijuana, should not consider applying, as ACE reserves the right to require drug testing and generally abhors the presence of drug users in our program.
Internship Responsibilities and Expectations: ACE places high standards and expectations for AmeriCorps interns. All interns must successfully complete their term of service by completing 450-900 hours (3-6 months) of service.
ACE crews support land management agencies (National Park Service (NPS), US Forest Service (USFS), Bureau of Land Management (BLM), US Fish and Wildlife Service (USFWS), etc.) with accomplishing conservation projects such as trail construction/maintenance, habitat restoration, dry stone masonry, fuels reduction, fence installation, and wildlife surveys. ACE crews are generally composed of 8 – 12 youth (ages 18-25) and typically work 80 hours over 8 to 9 consecutive days in the field.
ACE projects require a safe and professional environment, physically demanding manual labor, and a positive attitude. Interns are expected to hike long distances on rough terrain, complete labor intensive tasks, persevere through adverse weather conditions, and demonstrate mutual respect towards all corps members within the program.
Job Type:  Conservation volunteer
Location: Arizona, Utah, and North Carolina, USA
Cost to Volunteer: Housing, Education Award and Stipend Available
Season: Summer, Fall, Winter
Facebook: www.facebook.com/usaconservation
Learn More/ Apply At: www.usaconservation.org
According to a long tradition dating back to the Great Zen Master Pai Chang, famous for teaching "A day without work is a day without food," simple manual work which does not require much prior knowledge or complex thinking is best to sustain a practicing mind. Therefore, Haeng Won Participants will be given work in the kitchen, such as assisting the cook with food preparation, in the garden, harvesting or weeding, and cleaning the buildings, such as the dormitory, storage or Buddha and Meditation Halls. These simple duties, along with the administrative tasks usually performed by Sunims, are the fundamentals of the daily running of a temple.
The schedule starts before dawn, at 3:00 in the morning, and ends at 9:00 in the
evening, when the lights go out. In between, there are 5 hours of formal practice including sitting, chanting and bowing and 5 hours of work spread throughout the day with some breaks in between. Generally, the schedule is rather structured. In order to reinforce a simple, practice-oriented spirit, the participants will rarely leave the monastery grounds. In temple training, the schedule is our first teacher because it simplifies life and limits the personal sphere of likes and dislikes –by just performing our duties for others, we learn to put down our opinions, let go of our habits and
cultivate a true freedom not dependent on situation.
Haeng Won Work-Study Program
* Haeng Won Work-Study Program has been developed to allow practitioners from all over the world to get in touch with the Korean monastic root of Zen Master Seung Sahn's teaching.
* Practitioners receive free room and board.
We are now accepting applications for 2014 fall Hae Jae,
2014 winter Kyol Che Retreat, and 2015 spring Hae Jae.
* Fall Hae Jae: Sep 1 ~ Dec 4, 2014
* Winter Kyol Jae : Dec 6, 2014 ~ Mar 5, 2015
* Spring Hae Jae : Mar 21, 2015 ~ May 30, 2015
Applicants are accepted for a minimum of 1 month and a maximum of 3 months.
Job Type:  Work exchange
Location: Chungnam Province, South Korea
Cost to Volunteer: Free room and board
Season: Fall, Winter, Spring
Facebook: https://www.facebook.com/musangsa?fref=ts

Learn More/ Apply At: http://www.musangsa.org/english/sub03/sub03_4.php
The volunteer program at Earthdance is an enriching experience in Earthdance's community living and collaborative research into improvisation, somatic & interdisciplinary arts. Through the live-work environment, volunteers deepen their understanding of interpersonal dynamics, engage in somatic & creative opportunities, and develop professional skills running various aspects of an arts nonprofit.Support Earthdance's ongoing office tasks while participating in a one-of-a-kind creative, residential experience. This volunteer position includes 20 hrs/wk of administration and 10 hrs/wk of household work, with opportunities for hand-crafting a creative journey into various somatic and interdisciplinary arts practices. Earthdance's radiant studios, idylic woods, vibrant community, and hospitable staff provide the grounds for deep personal and professional investigation.Tasks:
- Help manage the database
- Support office mailings
- Support payment processing
- Support event hosting and registration
- Conduct store inventory and stocking
- Assist with job postings and bookkeeping
- Conduct cooking, cleaning, gardening, and other household tasks
Preferred Skills and Interests:
- Strong interest in cooperative living and community building
- Strong attention to detail and organization
- Facility with the Microsoft Office Suite
The preferred volunteer period is six months to start, with opportunities for extension. Non-monetary compensation is provided through room & board; benefits include complimentary workshops and jams, and access to Earthdance's facilities and resources.
Email contact@earthdance.net to learn more.
Job Type:  Work-Exchange, Retreat Center
Location: Plainfield, Massachusetts, USA
Cost to Volunteer: Compensation and benefits include room & board, complimentary workshops & jams, access to Earthdance studios, guest privileges, and community development opportunities.
Season: Year round
Facebook: Earthdance on Facebook
Learn More/ Apply At: http://www.earthdance.net/node/780


Anamaya Yoga Resort is truly an exotic place, built on a cliff edge and overlooking the most incredible ocean views. The resort is a few steps away from epic waterfalls, surrounded by rainforests, and located in one of the world's most beautiful tropical beach towns. "Anamaya" is Sanskrit for "good health" and that is our focus. Our unique retreat center offers gourmet organic food, yoga teacher training, several types of yoga classes and yoga retreats, a variety of luxurious spa services, and an array of uniquely designed retreat packages, workshops all in respect to the body, mind and spirit.
Are you looking for an internship somewhere exciting? Do you love yoga, the beach, rainforest, and tropical climate? Then Anamaya could be the place for you.
Anamaya is one of the most beautiful places in the world, and if you have the right skills, attitude, and super-friendly personality we're looking for, then you could live here onsite and be part of our team in this small paradise resort.
We have two internship positions available all year at Anamaya:
Chef/Food:
We need help in the kitchen, and to devise new recipes using the organic produce we're growing at our "Rancho Delicioso" organic farm nearby. Many of these veggies are exotic species and unfamiliar to most chefs. You may also be asked to fill in if one or our regular chefs is sick, or to help serve the guests. Our current multi-talented chef intern is a singer and plays guitar for the guests from time to time, and she also is writing blog articles describing our recipes and helping with the cookbook. The chef intern will also help with tasks such as making coconut milk or goat cheese, which generally our regular kitchen staff don't have time for.
Media:
The other position is what we call "Media" which can mean many things. We need help with our website, promotions, SEO, and many other parts of the business. Are you a great writer? Photographer? Would you like to make some promotional videos for Anamaya showcasing our yoga? Or perhaps a series of healthy food preparation videos with our kitchen staff? Maybe you are a great painter and could do a mural or wall detail on some of the rooms? What about websites… are you familiar with wordpress or graphic design and could help with that? Social media is also an option. We always need help with new posts to our Facebook, Instagram, and Pinterest profiles.
This position requires great creativity and skill. If this sounds like you, then contact us!
Job Type:  Work-Exchange, Retreat Center
Location: Montezuma, Puntarenas, Costa Rica
Cost to Volunteer:  $500 per month. You will receive room and board.
Season: Year round
Facebook: Anamaya on Facebook
Learn More/ Apply At: http://www.anamayaresort.com/staff/internships/
Work and live in the redwood coastal hills of Sonoma County, CA at beautiful Ratna Ling, a non-profit retreat center in the Tibetan Buddhist tradition in northern CA. Be in a spiritual community of like-minded people dedicated to service to humanity through a wide variety of projects both local and global.This year-round residential work-study opportunity combines meaningful work with opportunities for self-growth. Seeking those with a sincere interest and a strong work ethic.
Work in our on-site text preservation project producing Buddhist books to be donated to Tibetans in Asia and to Buddhist libraries of the West in 2014 and 2015.
You are offered:
Housing in cozy cabins with private bath and outdoor deck. (two to three people per cabin)
Delicious vegetarian meals
Monthly living allowance $150 per month
Free evening classes in various aspects of Buddhism as it applies to everyday life. Yoga, meditation, Skillful Means (how work can be a path to inner knowledge), Buddhist history and philosophy
Opportunity to engage in an environment where meaningful work and self-development are valued
People who like to work hard and have a sincere interest in Buddhism and exploring work as a path to inner knowledge are a good match for us. Our weekly schedule is rigorous (6 days a week) and rewarding
No experience required although we appreciate those with mechanical or warehousing background. You will receive training on various aspects of production book making, from folding and trimming to binding and warehousing. Involves hands work, being on your feet a lot and plenty of physical work.
If you are a hard worker, like rural living and would thrive in a truly unique environment where personal inner inquiry, cooperation and spiritual values are supported, this may be a great match for you.
Job Type:  Work-Exchange, Retreat Center
Location: Cazadero, California, USA
Salary:  No cost to volunteer; includes room, board and free classes.
Season: Year round
Facebook: Ratna Ling on Facebook
Learn More At: http://ratnalingworkstudy.com/category/current-openings/
Apply At: volunteer@ratnaling.org
Work and live in the redwood coastal hills of Sonoma County, CA at beautiful Ratna Ling, a non-profit retreat center in the Tibetan Buddhist tradition in northern CA.  Be in a spiritual community of like-minded people dedicated to service to humanity through a wide variety of projects both local and global. This year-round residential work-study opportunity combines meaningful work with opportunities for self-growth.  Seeking those with a sincere interest and a strong work ethic.
If you would like to cook in a truly unique environment where personal inner inquiry, cooperation and spiritual values are supported, as well as participating in an integrated program of work and learning, this may be the place for you.
Job Type:  Work-Exchange, Retreat Center
Location: Cazadero, California, USA
Salary:  Room and board, free classes, $150 a month living allowance
Season: Year round
Learn More At: http://www.ratnalingworkstudy.com/
Apply At: volunteer@ratnaling.org
Picture this! A thousand acres high on a ridge overlooking the Pacific Ocean. Golden temples, Wild horses and Spectacular Natural Beauty.
Now imagine your outdoor hands-on work in the gardens, orchards, on the land -learning and sharing practical skills.
Odiyan is a 1000 acre spiritual and ecological sanctuary in Northern California. We grow much of our own food, have our own water sources and are expanding our use of solar power.
Living and working at Odiyan includes:
Housing
Vegetarian meals
Optional classes
Monthly living allowance – $150 per month.
Joining Odiyan is the great decision for someone who is in a life transition, wanting to try something new or someone trying to discover their purpose in the world. While you figure out who you are and what you are here to do, you can learn practical life skills, such as:
•    Organic gardening
•    Vegetarian cooking
•    Community management
•    Construction
•    Landscaping
•    And so much more
Though Odiyan has its foundations in Tibetan Buddhism, absolutely no religious affiliation is required to join our team. We practice a DIY mentality for both inward and outward development.
Does this sound like a place for you? Space is limited, but we take applications on a rolling basis. Currently seeking people who can start in March, April or May 2014.
Please be strong, healthy and able to engage manual physical labor on a daily basis.
Helpful skills: organic gardening, use of tools and small machines, vegetarian cooking, construction, plumbing, electrical, general maintenance, writing, foundry and welding.
Not among the increasingly rare folks who have the skills we seek?  Don't despair!  If you are physically strong and hardy, willing to work hard, get dirty and learn things you have never thought you would ever do, you are welcome to apply.
Odiyan is an registered all-volunteer non-profit since 1975, located 110 miles north of San Francisco in Sonoma County, California.
Job Type:  Work-Exchange, Retreat Center
Location: Cazadero, California
Salary:  Housing, vegetarian meals, living allowance $150 per month
Season: Year Round
Learn More/ Apply At: Odiyan
Eco Truly Park is a beautiful Peruvian Pacific coast ecological, artistic community founded on Vaisnava principles, strategically located on Chacra y Mar beach, a district of Aucallama, in the province of Huaral, one hour by bus or car (63 km) north of the capital city, Lima.
Volunteers are allowed to stay at Eco Truly for as long as they wish. To get the most out of their experience, we estimate interns will want to commit themselves to at least 4 hours/day. Volunteers of all ages and backgrounds are welcome to join us; the only requirement is that you are enthusiastic about working with our community. Our basic accommodations are separate shared rooms for men and women; if you would prefer a separate, individual room in our hostel, we can provide that service for a slight cost.
We have a number of workshops that you can take advantage of including yoga, art, and vedic philosophy. You are also more than welcome to help out in our kitchen, vegetarian restaurant or bakery (operational 2 days a week). If you are willing to get dirty, you are can work in our organic farm with our biodynamic agronomist who also imparts theoretical and practical classes on organic agriculture, preparation of humus, and composting. More than anything we hope that you make new friends, and have the experience of a lifetime.
The nearest town is only 15 minutes away by car and provides Internet (about 1 sol per hour) and international calling service. There are also some small shops closer where you can by most necessary items. We do have a machine for laundry as well as sinks (if you want to wash clothes the old fashioned way and conserve energy).
Job Type: Work Exchange/ Volunteer
Location: Huaral, Peru
Cost To Volunteer: $300 + 4 hours work per day in exchange for room & board
Season: Summer, Spring, Fall, Winter
Facebook: EcoTruly
Learn More/ Apply At: EcoTruly
Prairiewoods Franciscan Spirituality Center is a retreat and conference center focused on ecology and spirituality (or, as we call it, ecospirituality). It is nestled in a natural setting of 70 acres of prairie and woodland in Hiawatha, Iowa. Prairiewoods is sponsored by a catholic organization, but it is open to people of all faiths and cultures.
The vision of Prairiewoods is of people everywhere, awakened in consciousness and energized by the loving, creative Spirit of the Universe into a community, moving together into wisdom, compassion and the fullness of life.
Housekeeping volunteers help the Prairiewoods housekeeper maintain the cleanliness and beauty of the buildings. Kitchen volunteers help the cook  provide fresh, nutritious meals to our guests. Maintenance volunteers help the maintenance coordinator keep the buildings, grounds and equipment maintained appropriately. Media Center volunteers help the media center staff provide library services for our guests. Office volunteers serve as the office staff on weekends and evenings to welcome and provide assistance to Prairiewoods' guests. Outdoor volunteers help the Ecospirituality Coordinator keep the grounds beautiful, ecologically healthy and productive. Prayer ministry partners use the prayer book outside the Prairiewoods Meditation Room to hold up the intentions of Prairiewoods guests, volunteers and staff. Within the covers of that prayer book are pages and pages of life stories, including requests for help in getting through a divorce, for getting a work permit, for a parent dealing with the suicide of a child.
Job Type: Work Exchange/ Volunteer
Location: Hiawatha, Iowa
Cost To Volunteer: Work in exchange for room & board
Season: Summer, Spring, Fall, Winter
Learn More/ Apply At: Prairiewoods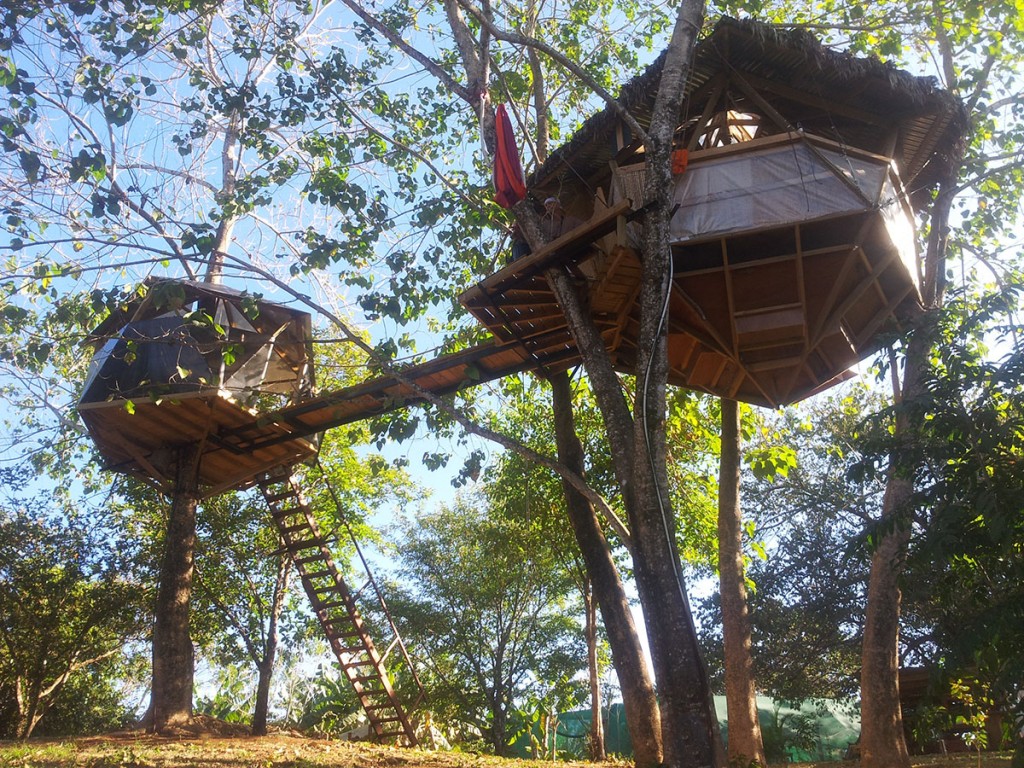 Rancho Delicioso is an eco village and organic farm that is rapidly becoming the heart of the Southern Nicoya Peninsula of Costa Rica, set between the beautiful and remote beach and surfing towns of Montezuma, Santa Teresa, and Mal Pais. This new eco-village, started only in 2012, is the first place to provide learning opportunities in organic farming, tropical permaculture, green building, and more. Operated by Anamaya Yoga Resort in Montezuma, its owners and volunteers are dedicated to healthy living, which includes having a lot of laughter and fun as the core of everyday life.
Are you looking to be a volunteer somewhere really interesting? Are you totally into dirt? Are you, like us, passionate about watching things sprout and grow? Do you want to help us make this world a better and healthier place? When someone tells you something is impossible, do you double your effort to prove them wrong? If you answered yes then we may have an opportunity for you to help out at our farm.
At Rancho Delicioso we are working constantly, experimenting with seeds and plants from around the globe, learning how to grow plants that haven't been grown here before. Currently we have over 120 different edible plants growing. We are searching the web for awesome plants and advice from green geniuses, so we can bring food gardening and small-scale farming to this area of Costa Rica that previously had almost nothing.
We also have two horses, two chihuahuas, nine goats, over 100 chickens, and one cat. We have four treehouses, a geodesic dome with an aerial silk, two large-scale plant sculptures, three tilapia fish ponds, two mandala herb gardens, hugelculture beds, a polyculture spiral, three orchards, a river, and a small adobe pizza oven. And we're just getting started!
There's a lot to do, but it's not all hard work… you will get to enjoy the jungle and beach as well, improve your Spanish skills, do some surfing, and hang out at Anamaya from time to time to do yoga and aerial silk, and enjoy our salt-water swimming pool.
If you're ready to commit to at least a month and become part of our family, then let us know.
Helpful skills: organic gardening knowledge, construction, painting (illustration/art), writing and internet research, spanish language, raw, vegan, vegetarian, or healthy cooking, dance, circus, and performance arts, making people smile and laugh.
Job Type: Work Exchange/ Volunteer
Location: Montezuma, Puntarenas, Costa Rica
Cost To Volunteer: $250-300/month and work in exchange for room & board
Season: Summer, Spring, Fall, Winter
Facebook: Rancho Delicioso
Learn More/ Apply At: Rancho Delicioso & Anamaya Resort
Now hiring for 2014!
The Organic Gardening Internship Program begins generally in late winter and is a position for someone who has already had some organic vegetable growing experience. Participants will become familiar with our the systems of planning, planting weeding watering and harvesting and distribution. Participants will learn to help process the harvest which includes freezing and canning, and fermentation style preservation. You will often cover when the head gardener is away. Physical stamina is needed. Participants also have willingness to work with guests and possible interns who are just learning about gardening and have the opportunity to step into a supervisor teaching role. Participants will learn how to cook with our various seasonal fruits and vegetables. Berry picking goes through the summer, with apple, pear, chestnut and native kiwi harvest picking up during autumn.
It is our experience and understanding that all nature beings, plants and animals, have an indwelling spiritual consciousness and that through the focused awareness of attunement and meditation we can communicate with them.  Our gardens are completely organic; we use no pesticides or chemicals of any type.
Job Type: Work exchange
Location: Shutesbury, Massachusetts
Cost to Volunteer: Work in exchange for room & board plus $200/month stipend based on experience
Season: Summer Fall Winter Spring
Learn More At: Sirius Community & Ecovillage
PachaMama is an oasis of an alternative lifestyle. It's a place to dive into a transformative spiritual voyage, rejuvenate the body, connect with nature and celebrate life. The community is located on the Pacific coast of Costa Rica in a forested valley. PachaMama was founded 13 years ago by Tyohar and fellow travelers who responded to the invitation to manifest together a commune that embraces a new way of life. Ever since it was founded, the oasis became a gathering place for people from all over the world, creating a colorful and unique energy field.
The land size is 500 acre, (2,300,000 m²). In the past this land was used as a cattle farm, without electricity, water system, roads or any living space.
There are plans to allow the village to grow continuously as more spiritual seekers, individuals or families, hear the call and want to enjoy the experience of PachaMama on a more permanent basis by putting down their roots here. The PachaMama experience is a profound journey into the depth of one's being. It is designed to challenge and to embrace. It dares one to experience the depth of life in its totality, be it laughter or tears, the liveliness of togetherness or the silence of aloneness. It is a Temple of Transformation.
The Work Exchange Program (WE) is an opportunity to experience PachaMama and become an integral part of the community through service. It allows the participants of the program to cover a substantial part of the costs through working.
Job Type: Work Exchange/ Volunteer
Location: Costa Rica
Cost To Volunteer: Based on duration of commitment.
Season: Year Round
Learn More/ Apply At: Pacha Mama
Mana is a prestigious retreat and conference centre situated in a scenic and lovely part of the Coromandel Peninsula in New Zealand. Mana offers a wide range of workshops and events in the areas of body-mind education, creative expression and spiritual exploration. Mana can accommodate up to 50 guests in comfortable modern rooms, and provides vegetarian and wholefood cuisine. Ingredients are mostly organic and often sourced from the beautiful Mana garden. Mana is a guest oriented business serving an international community.
The energy, enthusiasm and efforts of wwoofers (Willing Workers on Organic Farms) and other volunteers, is an essential component of Mana and is welcomed by the small staff team who direct their work. We prefer longer term wwoofers (at least one month) as there is much to learn in our different areas (house-keeping, kitchen, gardens), and we need to train you to work to the standards we maintain. Mana is especially interested in workers who would like to extend their stay beyond  a month, and train to take more responsibilty. If you wish to consider a more intense and longer work/learn experience, then please indicate in a mail attached to your application.
Job Type: Work Exchange/ Volunteer
Location: New Zealand
Cost To Volunteer: Accommodation & food provided in exchange for labor. No fees involved.
Season: Year Round
Learn More/ Apply At: Mana Retreat Center
It is no exaggeration to say that Aride is one of the finest tropical island nature reserves in the world. For the right volunteer candidate this is an exceptional opportunity, possibly the experience of a lifetime and tremendously rewarding. However, please be aware it is no picnic. Living conditions are basic, the work can be demanding and the climate can be a drain on those unaccustomed to the tropics. It is not for the faint hearted. However, for those with the right aptitude and interests working as an Aride volunteer is an exceptional opportunity. We welcome young graduates who wish to pursue a career in conservation, individuals with a conservation interest. Volunteers should possess a degree in a biological science and/or useful practical skills or IT skills.
The working day usually starts with a meeting at 7:00 am, during which the tasks and schedule for the day are discussed. A typical day might include monitoring activities, launching the boat, raking, removing invasive plants, data entry, tourists (especially in the NW monsoon), or maintenance activities. The working day ends at 5:00 pm, and includes a two hour lunch break from 12:00 to 2:00 pm. Usually there are snack/tea breaks in the morning and afternoon as well, but the exact schedule depends on tasks that need to be done.
Volunteers assist with all aspects of the island's work including scientific monitoring and research, maintenance of the paths, buildings and other infrastructure, launching and landing boats, patrolling the island and leading tours for visiting tourists.
Job Type: Volunteer Conservation
Location: Seychelles
Cost To Volunteer: Cost of flights and food. Accommodation provided. £375 stipend toward cost of flight to Seychelles.
Season: Summer Fall Winter Spring
Learn More/ Apply At: Aride Island nature Reserve